Families across the country journey to local, regional, and national theaters to watch these traditional shows that are synonymous with the season. It seems to me that people can be divided into two camps: A Christmas Carol People and The Nutcracker People. There is of course the rare breed of species that is on the fence. If you are someone like that, please find below my arguments for each, and let me know what you decide!
Case for A Christmas Carol.
Supporting fact #1:
There's a whole literary following of the Dickensian style. You know – Victorian England, British accents, poor working conditions and miserly bosses. Going to see A Christmas Carol sends a message to the world: "I am literary. I love words and fine writing."
Supporting fact #2:
You will probably leave the theater with a good moral learned. The themes of regret, guilt, greed, and gratefulness will permeate any theatre-goer's mind and even leave a few of us crying with tears of recognition. Spectating A Christmas Carol can make you a better person.
Supporting fact #3:
The ghost of Morley is downright scary! This is a much bigger thrill than seeing a horror movie at the cinema.
*If you find yourself in the A Christmas Carol People camp, consider your gifting style to fall into this category of Christmas ecards: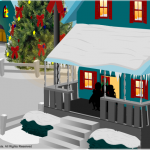 Case for The Nutcracker.
Supporting fact #1:
Dancers are athletes as well as artists and watching ballerinas do their thing is awe-inspiring. Here. This video will explain what I'm talking about. When you watch a good ballerina perform, and you see the holes in the shoes and the muscles working to their capacity, you feel so much respect for the art.
Supporting fact #2:
Silence. Unlike, A Christmas Carol, there are no lines of dialogue in The Nutcracker. Simply, sit back, meditate and watch the dreamlike sugar plums grand jete their way across the stage in silence to the melodic sounds of Tchaikovsky.
Supporting fact #3:
Be a kid again and romanticise that you, in a way, are Clara being courted by your own prince!
*If you find yourself in The Nutcracker People camp, consider your gifting style to fall into this category of Christmas ecards: