Halloween will be here in 4 days. I know getting my kids ready for their costumes can be overwhelming. My littlest is being a half dracula/half mummy, and my second oldest son is transforming into Iron Man for Halloween. There's some great costume stores in our city, but I also like doing a little homegrown costume creating of my own.
Click on this link to see one of my favorite Halloween costume crafting tutorials. From Kermit the Frog to Winnie the Pooh, this crafting mom blogger, "BigDandMe" is such a creative mom. She gives some great tips on how to use ping pong balls for Kermit's eyes, colorful felt feathers for a parrot costume, glued-on turquoise beads for a baby girl Sacagawea get-up; this mommy has got great tips!
How do you like to decorate your house for Halloween? I think it's fun to turn my house into a full-blown spooky haunted house.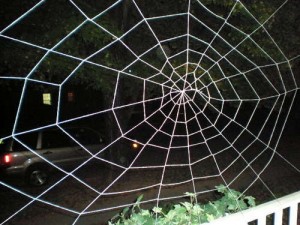 Fake cobwebs outdoors, sheets hung from the ceiling to look like ghosts, and spooky music playing in our study. When the neighborhood kids come trick or treating, I love to dress like a witch. This ecard basically breaks it down, how I like to do things at my Haunted Home on Halloween.