I love seeing the signs celebrating Purim outside local synagogues in my town. I looked into it, and I think there is about 128 synagogues in and around Los Angeles. I know that my friends that celebrate Purim especially love this holiday for their kids. Good food, celebrations, giving to charity, and fun costumes. I always send them Purim ecards to wish them well.
Some of my friends try to make  Hamantaschen pastries for this holiday, but I understand why some of them end up buying them instead…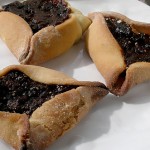 In this New York Times article, it says they take two to three day to make! These days, I feel like I'm lucky if I find 20 minutes to bake a Dr. Oetker organic cake mix. I give kudos to anyone who devotes two to three days baking these Hamantaschen pastries. They do look delicious, though, filled with prunes or poppy seeds. The pastries are made to look like "Haman's Hats," and they represent the victorious escape of the Jewish people from being executed during their time in the Persian Empire, all due to the courage of Queen Ester. I am excited to support my friends celebrating this holiday, so I am going to send them Dancing Hamantaschen ecards and other Purim ecards.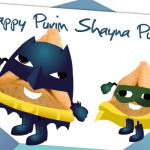 March 8 at sundown, it begins and last for two days. I want to wish everyone a Happy Purim. The Jerusalem Post says that there will be carnivals in the streets of Jerusalem with colorful costumes, acrobats, and puppets. Hopefully you are having a celebration on your own neighborhood block. Just remember to clean up the confetti afterwards and send plenty of Purim ecards!