This year I'm thinking of doing Thanksgiving dinner the local, seasonal way. Trying to simplify these days…. So I started searching for the best farmers' markets and local tucked-away co-ops and gardens using Local Harvest, and I found all of these really interesting food items located at markets across the country.
If you live near Buckeystown, Maryland, you should enjoy Nick's Organic Farm that raises cattle and poultry and harvests vegetables such as white sweet corn, English peas, Acorn squash, white potatoes, basil, and tomatoes. Yummy! Can you imagine turning the clocks back to the Pilgrim days and trying to eat a little more like they did?
If you live in St. Louis, Missouri, there's a "city farm," the Villarreal Family Farm, located in a backyard that has grown into a booming business. From heirloom tomatoes to fresh eggs, this farm adheres to the "true growing seasons" and to "simple, traditional farming techniques." Buying from this farm could resemble a little how the pilgrims did it in 1620. (By the way, the Villarreal family is trying to expand their little backyard farm – check out the article in the St. Louis Post-Dispatch.)
Unless of course you just can't shy away from the other beloved American past-time. Stuffing yourself silly with turkey and pie (and, no, the Tryptophan in turkey is not the only sleep-inducer: that's a myth!), then lying down on the couch for some football, has equal merit in my mind. This Thanksgiving, November 24, you can catch the following NFL football games on the tube:
Green Bay Packers at Detroit Lions
Miami Dolphins at Dallas Cowboys
San Francisco 49ers at Baltimore Ravens
While on the couch, exercise your thumbs by emailing
Thanksgiving ecards
to far away loved ones. We love thise-card about
Thanksgiving Golden Retrievers
playing in the autumn leaves and pumpkin patch of an adorable farm with replete with cutesy red barn. I'd love to take a stroll on a breezy autumn day with these pups and eat a pumpkin pie afterwards.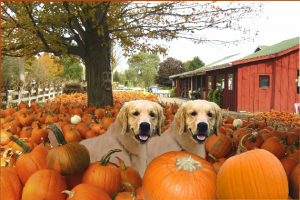 No matter where you live or what you eat, we here at DoozyCards wish you a warm, loving, and happy Thanksgiving!