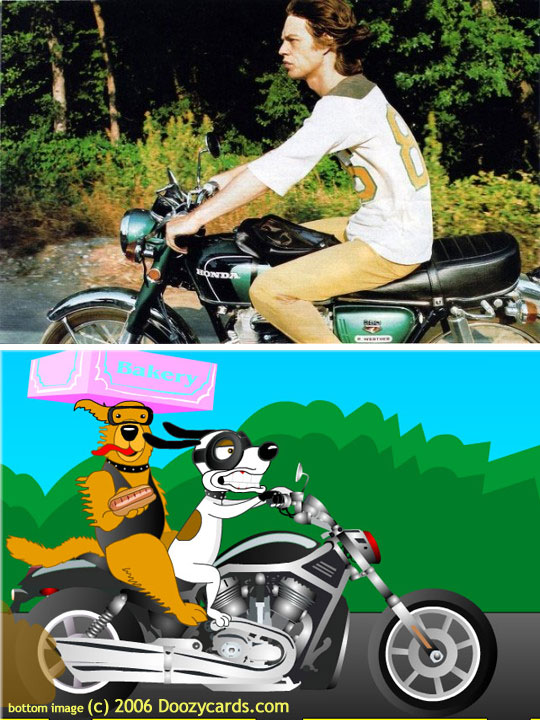 We are very satisfied.
The Rolling Stones are prowling the nation again! And while they are probably using planes and limos and not motorcycles, we are thrilled to get one more chance to see Mick strut and preen and purse live onstage.
We have a small chip off one of the Rolling Stones here at Doozy. Our music composer Mark, actually played with them on tour in the 70's and 80's! Mark composed most of the music for our cards for our first 7 years. Prior to working with us, Mark has been a studio and touring musician for many of the world's greatest rock bands ever. He's a Brit like Mick and the boys with a sharp, funny English sense of humor. You can hear his voice in our Raj the Elephant ecards.
Back in the ancient days of 2006, we asked Mark if he could do a Rolling Stones inspired birthday tune for us. The result is a very likely tune we set to dogs on motorbikes which you can see here.
Mark composes less for us than he used to. He came down with Parkinson's disease and it affects what he can do in his studio these days. But we will be making more cards to some of his music this summer, so stay tuned. (In the meantime we urge you to donate to a good charity fighting Parkinson's today)
If you do go to see the Rolling Stones in concert, leave us a comment here or on our Facebook page and let us know how it was!
You can see more of Mark's work and all of our musical birthday ecards here.