Hanukah begins tomorrow night at sundown and ends December 28. As you begin your celebrations, here's a look at how others do it across the country. I like to find out about different customs, and then send faraway friends and family Hanukah e cards.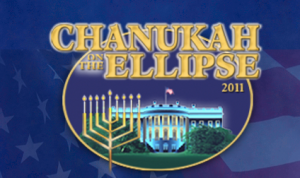 The National Chanukah Menorah is located near the White House at The Ellipse, in the President's Park South and will be lit at 4:00pm. Hot latkes and doughnuts will be served.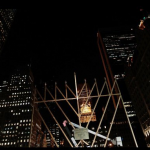 In New York City's Midtown neighborhood, the "World's Largest Hanukkah Menorah" stands. Certified by The Guiness World Book of Records and designed by artist Yaacov Agam, this sculpture is a festive Jewish decoration amidst the Christmas lights, songs, and colors generally associated with Manhattan at this time.
In Saint Louis, Missouri, Home Depot sponsors a Menorah Workshop where kids can build menorahs from wood. Started by Rabbi Levi Landa in 2008, this annual event has been so popular that Home Depot is extending it to other cities. It's a great way for kids to do something hands-on to celebrate the holiday especially if your child has an inclination for doing carpentry or handiwork around the house.
In Boulder, Colorado, Ignite Chanukah with Vodka Latke Party is described as Colorado's biggest young adult Chanukah party. It's a way for young adults to share ideas about Chanukah and other Jewish topics in a light-hearted way. The vodka and latkes is the pre-party. The talks and five minute speeches are the main event, and there is usual an after-party as well. What a great way to get into the festive mood.
In whatever way you like to celebrate Hanukkah this season, we'll be sending Hanukah e cards to all of our Jewish friends and family this year. Nun, gimel, hei, shin!