Ahhh the joys of summer weddings. Wedding Cake, champagne, and dancing. I love diving into a chocolate groom's cake with a glass of bubbly! At New England weddings I wear a hat and enjoy the boats in the marina. In the South, I fan myself and drink a mint julep.
There are, of course, downsides to summer weddings. Mosquitoes, sweltering heat and not to mention expensive plane tickets, gift registries, and cocktail dresses! When I can't afford to fly across country to wish my friend her best on the big day, I send her one of our animated wedding ecards.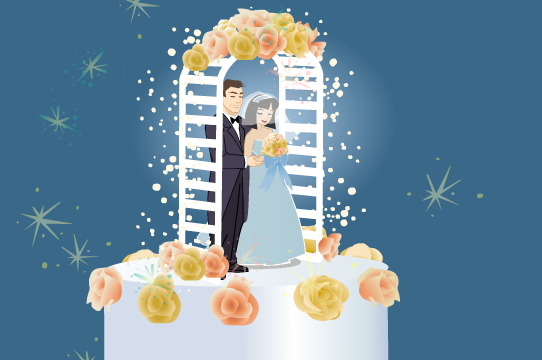 Summer weddings make me think of some great old timey wedding songs, like Going to the Chapel by the Dixie Cups, or Today I Met the Boy I'm Going to Marry by Darlene Love. Here's a great link to a 1967 video of Dionne Warwick singing Burt Bachrach's Don't Make Me Over. There's nothing like a black and white video from a bygone era with a swooning voice! Puts me in the mood for love!