Christmas is less than five days away. What's your weather forecast?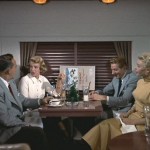 I recently watched Irving Berlin's White Christmas On-Demand. I love the lyrics to the  song, Snow, that Bing Crosby, Rosemary Clooney, Danny Kaye, and Vera Ellen sing on the  train from L.A. to Vermont. The lyrics go:
"I'll soon be there with snow
I'll wash my hair with snow
And with a spade of snow
I'll build a man that's made of snow"
The show business foursome leaves the palm trees of Southern California for the snowy scapes near a New England Inn. According to the Chicago Tribune, "A white Christmas, as defined by the National Climatic Data Center, is one with an inch or more of snow on the ground at 6 a.m."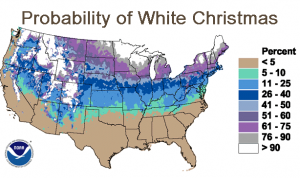 The places in the U.S. with the highest probability for White Christmas each year are two cities in Michigan (Marquette and Sault Ste Marie), two in Minnesota (Hibbing and International Falls), and one in Washington (Stampede Pass.)
Chicago has a 40% chance of White Christmas each year. New York has a 10% probability. And Los Angeles is 0%. So think of us this holiday season when you send Christmas ecards. We're warm here in the balmy weather of Southern California busy making gifts; instead of the toys Santa makes in the snowy North Pole, we're making Christmas ecards!