Hanukkah begins next Tuesday evening. If you haven't started preparing for it yet, our DIY article here will get you started!
1. The Menorah
First thing's first. The beautiful menorah candles have such a meaningful significance. Counting down the eight days of Hanukkah, lighting one of the eight candles each night, is a sacred way to remember the past and to cherish time with family.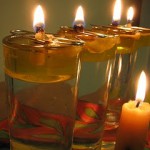 The blog, Old Growth Yiddishkeit, has lovely advice on how to make an environmentally sustainable menorah that is still kosher.  Using olive oil and cotton wicks is better for the environment and actually a closer match to what they  would have used in the 2nd century BCE.
2. Dreidel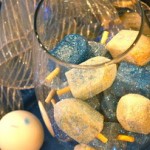 An excellent article from Patch.com, gives instructions on how to glamorize your dreidels using Elmer's spray adhesive, fine glitter, and a decorative glass vase. Martha Stewart Crafts (available at Michael's) makes fine glitter. It's more powdery and subtle. In my opinion it looks better on the dreidels than the large traditional glitter squares. Less messy too!
3. Latkes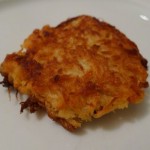 The Huffington Post featured an avant-garde recipe that puts a new spin on this traditional food. How 'bout adding  celery root and parsnip to your latkes this Hanukah? I thought it sounded delicious.
4. Celebration
Dance, laugh, and sing with your family in celebration of Hanukah. Here are a few great ways to do it!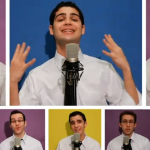 Rock-out with your kids to this bouncy Hanukah pop ballad sung a capella by the Maccabeats. It has over six million views on YouTube!
Menorah. Check. Dreidel. Check. Latkes. Check. Hanukah e cards … we've got you covered. Another way to wish others joy is to send Hanukah e cards to family across the country. We have plenty of Hanukah e cards here at DoozyCards.

 They'll love groovin' to this original Happy Happy Hanukah song e card.
So now that this blog post has hopefully equipped you with everything you need, go get started with the Hanukah preparations! We here at DoozyCards wish you a warm Hanukah 2011.