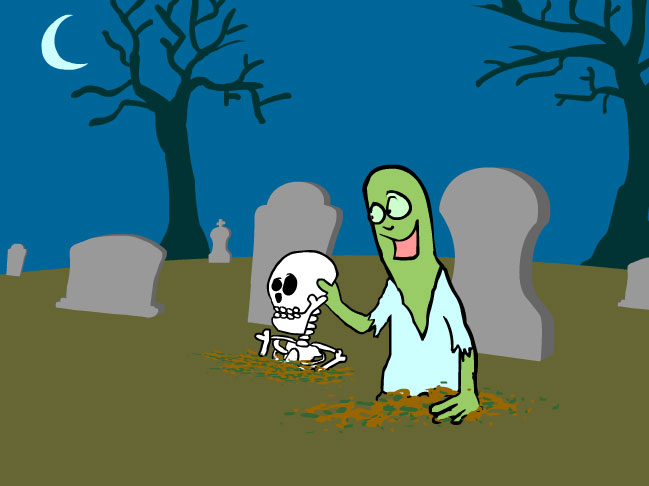 We just finished our bevy of new Halloween ecards in time for you laugh and entertain your friends. Our new Zombie ecards actually features the theme song from "The Munsters"!!! We were very lucky to be able to use this music through our good friends at Inner Splendor Media who recorded this rocking version of the Munsters theme on their new Halloween album, "Halloween Music".
What does Halloween conjure up for you?  A sinister mood?  Do you like the dark and macabre costumes?  If so, you'll love our scary ecard. It has cool Halloween music and spooky images.
Does Halloween make you a tricky prankster?  Do you like candy bowls where hands pop up and cocktails with eyeballs in them? You might like this funny Halloween ecard  where Frankenstein and Dracula play a joke on their friend, the Mummy.
Or does Halloween bring out all your silliness?  Your costume is usually the most absurd item or person you can think of.  You're the whoopie cushion or, this year, you want to be Honey Boo Boo?  Then, you'd probably like to send your romantic interest this romantic Halloween joke ecard.  If you're like my two little boys, you like to pay homage to what you love.  Oliver and Cooper are both going as Minecraft characters – Creeper and Stevie.  Last year I went as Marge from the Simpsons.  It was fun because kids recognized Marge and babies loved my foot and half of blue hair.
Whatever Halloween brings out in you, share your own unique Halloween spirit with friends and family with a large variety of our Halloween ecards from silly to sinister.