Share this Image On Your Site
Please include attribution to http://www.doozycards.com/ with this graphic.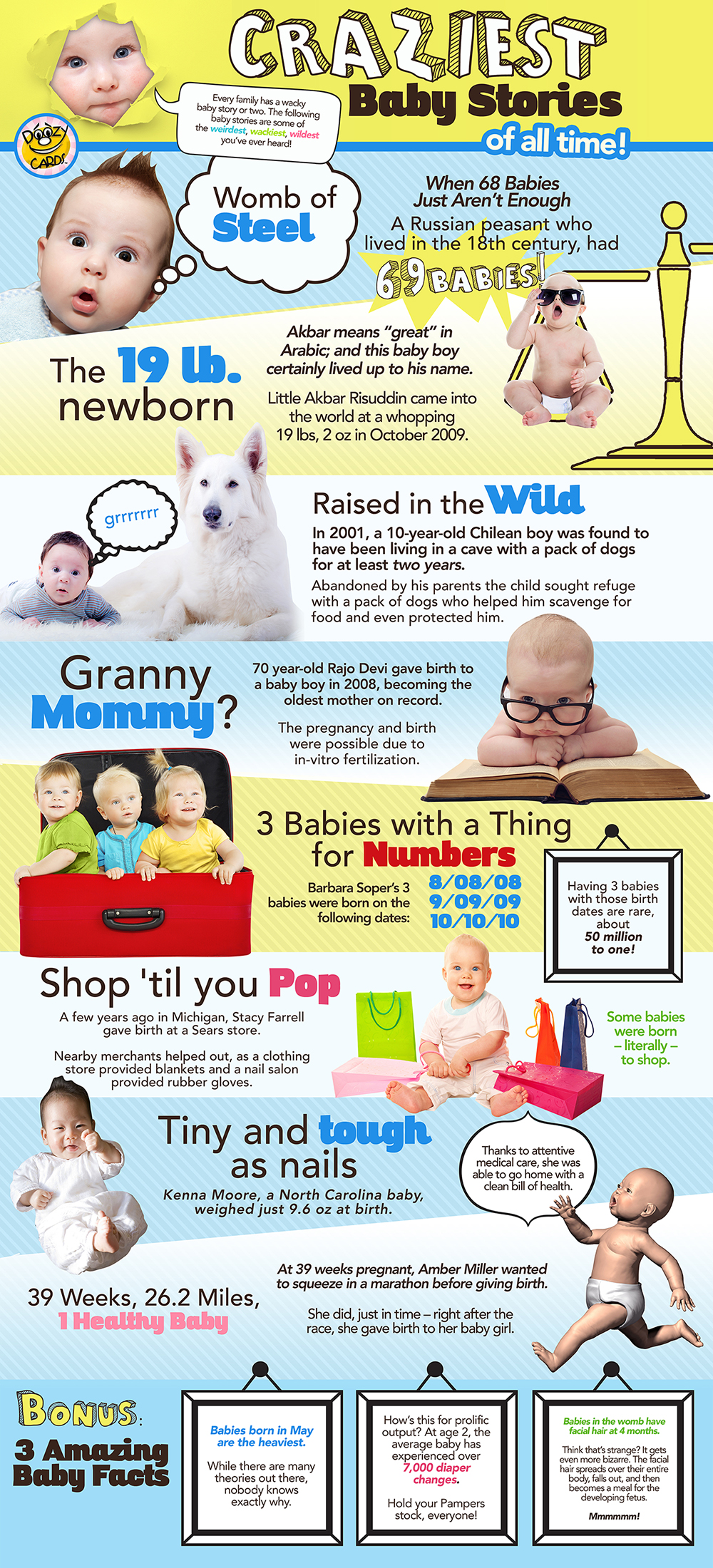 Every family has a wacky baby story or two. The following baby stories are some of the weirdest, wackiest, wildest things you've ever heard.
Womb of Steel: When 68 Babies Just Aren't Enough
A Russian peasant who lived in the 18th century, had 69 babies.
The 19-pound Newborn
Akbar means "great" in Arabic; and this baby boy has certainly lived up to his name when little Akbar Risuddin came into the world at a whopping 19-pound, 2-ounce in October 2009.
Raised in the Wild
Natasha, a Russian child, was neglected by her parents, so wild cats and dogs in her household helped nourish and raise her. Welfare officers had to overcome Natasha's hissing, barking and her habit of eating food on all fours.
Tiny & Tough as Nails
Kenna Moore, a North Carolina baby, weighed just 9.6 ounces at birth. Thanks to attentive medical care, she was able to go home with a clean bill of health.
Old as a Great-Grandmother, but Just a Mother
70 year-old Rajo Devi gave birth to a baby boy in 2008, becoming the oldest mother on record. The pregnancy and birth were possible due to in-vitro fertilization.
39 Weeks, 26.2 Miles, 1 Healthy Baby
At 39 weeks pregnant, Amber Miller wanted to squeeze in a marathon before giving birth. She did, just in time – right after the race, she gave birth to her baby girl.
3 Babies with a Thing for Numbers
Barbara Soper's 3 babies were born on the following dates: 08/08/08, 09/09/09 and 10/10/10. Having 3 babies with those birth dates are rare, about 50 million to one.
Baby Size: It's all Relative
Stacey Herald gave birth to an 18-inch daughter. Which isn't noteworthy, until you realize that Herald's one height is a mere 28 1/2-inches.
Shop 'til you Pop
Some babies were born – literally – to shop.  In Michigan a few years ago, Stacy Farrell gave birth as at a Sears store. Nearby merchants helped out, as a clothing store and nail salon provided blankets and rubber gloves, respectively.
Bonus: 3 Amazing Baby Facts
Babies born in May are the heaviest. Many theories are out there, but nobody knows exactly why for sure.
How's this for prolific output? At age 2, the average baby has experienced over 7,000 diaper changes. Hold your Pampers stock, everyone!
Babies have facial hair at 4 months. Think that's strange? It gets even more bizarre. The facial hair spreads over their entire body, falls out, and becomes a meal for the developing fetus. Mmmmmm!