Customers are gobbling-up the new "Eat me for Thanksgiving" ecard. Feast your eyes on our latest Thanksgiving ecard:

Peter, Bennett's friend from college, took a break from his job at Sesame Street to compose and sing this song.  Watch-out, it's catchy because his Bing Crosby-style voice and funny melodious lyrics will stick in your head. We've been singing it for weeks.
Caroline, one of our animators, designed the heart-tugging "Hungry Puppy" Thanksgiving ecard. It's part Doozy, part Norman Rockwell.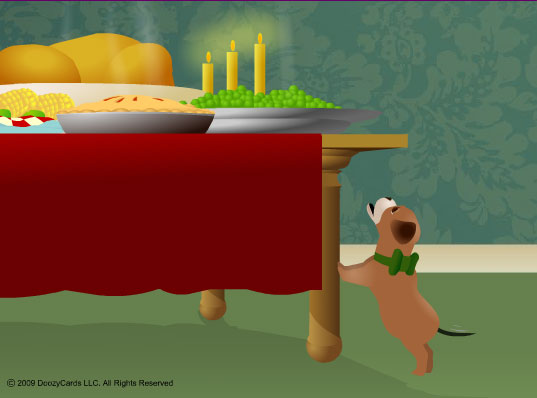 We also made the new Thanksgiving ecards, "Thanksgiving Smiles" ecard and "Thinking of You" ecard. These beautiful photo cards are made by our French Canadian office-mate, Mukti. These are the perfect sentimental Thanksgiving ecards to send to dear family and friends close by and across the miles.
We also made two gassy Thanksgiving ecards. Our Thanksgiving ecard "Farting Turkey" was extremely popular, so we had to give you more. Not to mention my three boys go bananas for them. We're semi-proud to introduce "Pilgrim Fart" and "Acorn Fall."