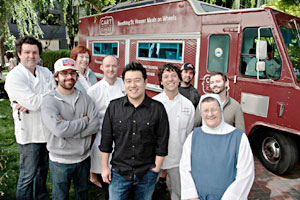 Join us and St. Vincent Meals on Wheels' Cart for a Cause tomorrow in Santa Monicawhere chef Josef Centeno will be serving up his Lazy OX Canteen menu. Each $10 meal (includes drink and dessert) will feed a senior for a day. The Cart for a Cause will be at 2850 Ocean Blvd in front of the tennis channel. Meals will be served between 12 pm and 2 pm. I would get there at 12 pm since meals have been selling out by 12:30!
When we look at the people behind LA's first non-profit food truck (see above pic), Cart for a Cause, it's hard to believe Sister Alice Marie (right corner) started St. Vincent Meals on Wheels on her bicycle. Today the kitchen is serving thousands a meals a day via a fleet of vans and now – a gourmet food truck!
Here is our latest cartoon we made for the St. Vincent's Meals on Wheels Bike-a-thon.
My son Otis and my husband Patrick enjoyed their third year doing the beach ride.
At Doozycards we are sending lots of love to the home bound seniors, many whom have been hit hard by these difficult financial times.