The Doozy team of scientists are in the Doozy laboratory hard at work to create digital birthday cake.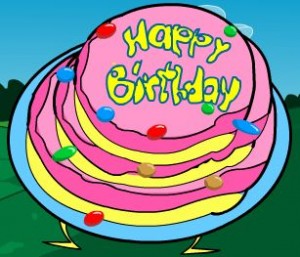 It won't taste like microchips (or potato chips, for that matter!) but rather like traditional buttercream. We hope to offer digital birthday cake in both chocolate and vanilla for our customers and to release Red Velvet flavor sometime next year.
JUST KIDDING!! But seriously, what should you mail your kids who have summer birthdays if they're away at camp? Candy, games, markers, journal, or …. a free birthday ecard! Okay, this was news to me, but I just found out kids have access to computers these days at camp. When I was at camp, we were forced to write them on a postcard or paper. Now there are whole businesses devoted to keeping you in constant digital contact with your faraway children (wasn't the idea behind camp originally supposed to be to give your kids wings to fly?!?)
Anyway, you can send your son or daughter a CUTE free birthday ecard from DoozyCards.com like this one: Happy Birthday to Ewe Ecard
Have little brother or sister send this soulful, funky free birthday ecard: Funky Penguin Birthday for Brother Ecard
Now I've got to get back to the laboratory. They need me for testing the icing. Should we dye it pink, purple, or blue? Rainbow, I say!