It's that time of year. And, no, we don't mean what you think we mean. Yes, there's the cheer in the streets, Santas ringing red bells, city sidewalks draped with lights and decorations, snow falling on your head. But what we are talking about is, of course, Christmas movies!!! We here at Doozy Christmas ecards headquarters love popping-in an old timer with popcorn and hot cocoa or just happening upon a jewel of a Christmas movie on ABC Family.
And here it is. Our official Doozy Christmas movie must-see list: (in no particular order)
1. It's a Wonderful Life
2. A Christmas Story
4. Love Actually
5. Tim Burton's The Nightmare before Christmas
6. Elf
7. Irving Berlin's White Christmas
8. Home Alone
9. The Polar Express
10. Frosty the Snowman (1969)
11. The Snowman, animated short film (1982)
12. Rudolph the Red-Nosed Reindeer, claymation TV special (1964)
13. Little Drummer Boy, claymation TV special (1968)
13. How the Grinch Stole Christmas
14. A Charlie Brown Christmas
15. Scrooged
16. Prancer
17. Jim Henson's Emmet Otter's Jug-Band Christmas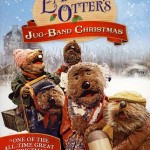 18. Our number 18, Must-See Movie, we've listed in the form of a trivia question. Ready to test your Christmas movie knowledge? Ok. What was the name of a biopic movie that tells the story of how St. Nick was given immortality and the parallel life of one of his elves, starring Dudley Moore and John Lithgow? Scroll down to the very bottom of this post to see the answer.
This year, when you send one of our Christmas ecards you will tell your recipient a little Christmas story. Much like curling up on the couch, in front of the fire, with a great Christmas movie DVD, sending Christmas ecards are a great pastime.
The answer to bonus question #18 is Santa Claus: The Movie from 1985.