Halloween is coming!   On Friday I picked up the boys wearing my witch's hat.  There is something about costumes that instantly excites kids.   We zoomed home my broom, ok SUV and carved our first round of pumpkins.  While we carved away, I tried to convince them to dress up as Spongbob, Plankton and Mr. Crab but they refused!  Sigh… I'll have to be Sandy the Squirrel all by myself.  The little ones of course want to be Batman and Robin and the teen is still deciding.
In the meantime, our first Halloween e-card is  on the site!    To turn this beautiful Victorian House into a frightful haunted house, click on our Haunted House ecard.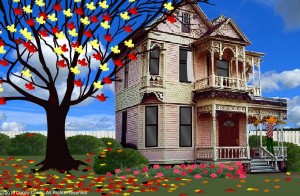 We have a  big batch of Halloween e-cards in production and we will be adding them to the site in the next two weeks.
If anyone has any Halloween cards they want to see made, let us know.