We just found a Hanukkah kids' music album that we love! It's called Let's Go Coconuts by The Macaroons.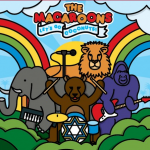 You can download the album on iTunes; then rock out with your kids this holiday season to songs like "Hurry Up and Light the Candles" and "Mezuzah." If your kids enjoy listening to it with their non-Jewish friends, it's a great way to explain exactly what a Mezuzah is. For our readers, who aren't Jewish or may not know the origin, a Mezuzah is the welcoming scrolls that contain a sacred prayer on parchment and are attached to doorways.
Our Hanukah e-cards feature some great ecards for kids that can be used as teaching tools. The Tap Dancing Maccabees e-card references those ancient Jewish leaders from 164 BC. Our Hanukah Bubbies Game ecard is a great to teach your kids about the dreidel, delicious sufganiyot, and gold-wrapped gelt.
Children's author, Maurice Sendak, noted for his book Where the Wild Things Are and who is Jewish, drew this great illustration for kids called In Grandpa's House.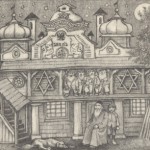 I was glad to know that such a famous author reveres his historical roots, and in fact was recently invited by the Jewish Museum of New York to choose menorahs from the 18th-20th centuries for a Hanukah exhibit.
With so many options for music and art this Hanukah season, we hope you will cherish this time with your children and grand-children.