This Sunday (November 6) is Daylight Savings day. That means at 2:00 a.m. on November 6 we all turn your clocks BACK one hour. Do you know the old saying "Spring Forward/ Fall Back"? Well, that's how we remember to turn your clocks BACK one hour this Sunday. This is especially important if you attend a religious service regularly on Sunday mornings. One time I missed a church service completely because I was late one hour due to failure to turn back my clock.
Here's a Daylight Savings ecard about the tricky relationship we have with our alarm clocks: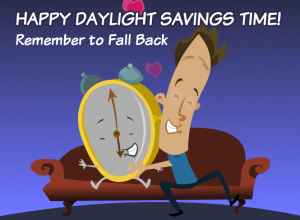 Our Daylight Savings ecards are hilarious and will help you send your loved ones a reminder!
Are you aware of what Circadian Rhythm is? It's the 24-hour cycle of our body. According to this site at 2:00 a.m. is our deepest sleep; 10:00 a.m. high alertness; 6:30 p.m. highest blood pressure; and 9:00 p.m. melatonin secretion starts. Our body makes melatonin and that controls our sleep and wake cycles. How interesting! So I plan on reorganizing my bedtime to maximize my Circadian Rhythm (now say that five times fast!)