Okay, Christmas decorating is getting a little crazy: stairwells ringed with expensive garlands; bejeweled Santas lighting the mantle … I just don't know if I agree with going this overboard. Back in the day, a bough of mistletoe would simply do. The folklore behind kissing under the mistletoe is quite interesting. Down through the centuries, Germans, Celts, and Greeks have venerated this plant. According to this article, "it was considered to bestow life and fertility; a protection against poison; and an aphrodisiac." You can find mistletoe in nature and bring it indoors; then kiss your husband underneath it! Tickle your honey with laughter during this festive holiday season by sending a funny Christmas ecard.
Another simple way to decorate your house for Christmas, is to do like the song says: "Deck the halls with boughs of holly." Cut bushy twigs from the holly bushes in your backyard and strategically place them around your house. The bright glossy green and red colors will be intoxicating. If it's the festive smell you're after go straight for REAL PINE.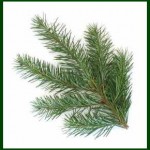 – The Douglas fir has the most fragrance.
– The Red fir has spaced-out branches for hanging ornaments.
– The Noble fir that doesn't easily drop needles.
This year, our Christmas ecards have beautiful animations illustrating the many colorful traditions of Christmas. In the e-cards in her collection, the fabulous Ms. Dionne Warwick dresses in plush fabrics and knee high boots to trim her outdoor garden in her lovely "Dionne Warwick's Christmas e card". Shimmery tinsel garlands, shiny bulb ornaments, and tasty peppermint canes are the way to go!
I love the Seasonal Christmas department at Sears for buying cute, affordable decorations: