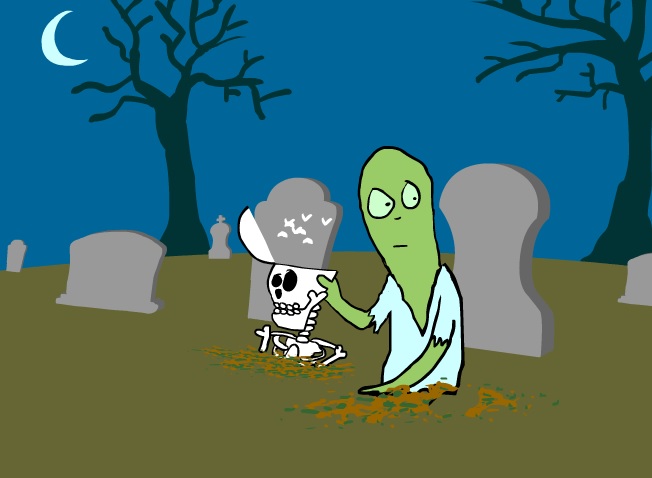 Trick-or-treat season is creeping up on us once again, so be sure to spook all of your friends and family members with best eCards for Halloween courtesy of your scary friends at Doozy Cards. From the hauntingly hilarious to the terrifyingly thoughtful, our Halloween eCards will have them screaming with delight.
Picking out your show-stopping Halloween costume may require careful deliberation, but Doozy Cards makes choosing the best Halloween greetings as easy as a walk in the graveyard. You could treat your friends to the ghoulish delights of Happy Zombie Halloween one of our shiny new Halloween eCards starring the most charming, brain-hungry zombie you could ever hope to meet on a moonless night.
If you prefer to keep things fun and light-hearted on Halloween, skip the horror movies and send one of our sweet and silly Halloween cards. From the Monster Mash to a choreographed Thriller dance, tearing up the dance floor on Halloween is a fun way to chase the evil spirits away. Get freakishly funky with the adorable stars of Halloween Midnight Dance, one of the best eCards for Halloween, in our humble opinion. Do you remember your first Halloween masquerade ball?
As much fun as trick-or-treating can be, Halloween isn't only for kids. While they may not go knocking on doors for candy, grown-ups can still dress-up for a bit of devilish decadence as well. Surprise your special someone with Invisible Man and Gal Get It On, which is one of our naughty eCards for Halloween. These two saucy revelers prove that getting dressed up for Halloween is only half the fun.
So, before midnight strikes and full moon howls begin be sure to trick and treat your friends and loved ones to some of the best eCards for Halloween. And in the comment section below, let us know what you plan on dressing up as for Halloween this year!