It's probably safe to say that we're all ready to shake off the chill of winter. So, to help you get in the spirit of spring and sunshine, we here at Doozy Cards want to share with you 5 stunning eCards that will brighten your day. Put on your sunglasses, get out the sunscreen and sit back to bask in the springtime glow.
1.    Happy Spring
Flowers are blooming, birds are singing and the beautiful colors of spring have returned. Bid farewell to winter and send your friends and family a radiant springtime message with this new beautiful Japanese-themed eCard for spring.
2.    English Garden in Spring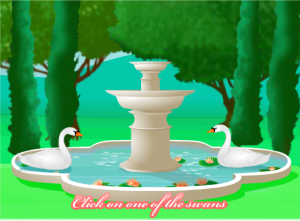 Take a stroll through a gorgeous English garden with this enchanting and original eCard for spring. As the orchestra plays, the swans swim and the flowers bloom, you'll be transported to a magical world of spring sure to bring cheer to your day and to whomever you send it.
Adorable bunnies are surely the mascots of spring, and the cheery, singing bunny in this spring eCard is no exception. Just because you have to go to work on a gorgeous spring day doesn't mean you can't enjoy a healthy dose of springtime at the office, and this eCard will make sure you do.
4.    Penguin Spring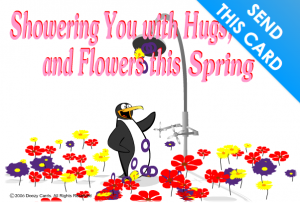 You might think a penguin would be more accustomed to ice and snow, rather than the flowers and sunshine of spring. But this penguin can't wait to brighten your day and shower you with springtime hugs and kisses.
5.    Talking Retriever with Flowers
This pup is bound to bring smiles to you and your loved ones for spring. Simply type a cheerful message and this retriever will speak your message aloud. With his adorable looks and sweet demeanor, this dog will deliver springtime brightness that will last all day.