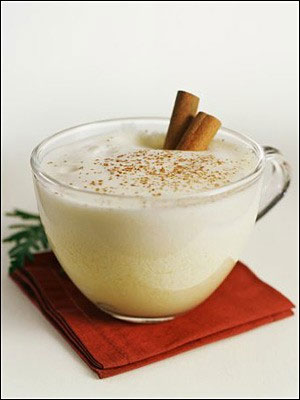 "Christmas is not properly observed unless you brew egg nogg for all comers; everybody calls on everybody else; and each call is celebrated by a solemn egg-nogging…It is made cold and is drunk cold and is to be commended."
– Unknown Englishman, 1866
Egg nog. It sounds weird but tastes delicious. Recipes may vary but it's a consistent holiday favorite. So what is this creamy goodness? And what the heck is a "nog" anyway?
In colonial America, rum was often referred to
as "grog" so
Another possible source? Noggins were the English term used for small wooden mugs used to serve alcohol. "egg and grog" may have slowly morphed into "egg nog." (If you've consumed several of them, you can see how the words might slur together.)
Either way, it's been around a long time and generally contains a combination of the following ingredients:
Milk or cream, sugar, raw eggs, spices (usually nutmeg). Other toppings include vanilla, whipped cream, meringue, cinnamon, ice cream and chocolate curls.
Most popular alcohol for egg nog? Rum, bourbon or brandy. In Europe, nog is traditionally made with white wine. In Germany, beer…bleh.
Below is the URL to one egg nog recipe that consistently gets rave reviews from Ms. Martha Stewart as well as a non-alcoholic egg nog recipe you'll enjoy.
We have a wide and wondrous selection of free and funny Christmas ecards to peruse over while sipping the nog. Get your free Christmas ecards out now. We assure you, they are equally as entertaining no mater which variety of nog is in your noggin.
Martha Stewart's recipe:  http://www.food.com/recipe/martha-stewarts-eggnog-148066
The non-alcoholic recipe: http://homecooking.about.com/od/beveragerecipes/r/blbev17.htm