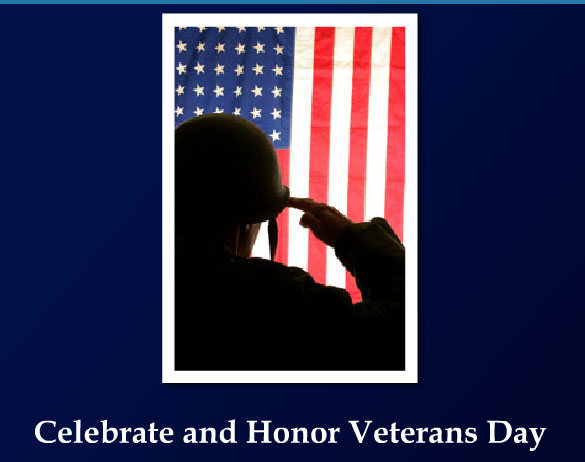 Q: Is it Veteran's Day or Veterans Day?
A: Veterans Day. Most sources spell "Veterans" as a simple plural without an apostrophe.
Q: Are Veterans Day and Memorial Day essentially the same holiday?
A: No. Memorial Day honors soldiers that have died while Veterans Day celebrates the service of all military veterans, living and dead.
Q: Why does Veteran's Day fall on November 11th every year?
A: The hostilities of World War I (or The Great War) were officially ended at the 11th hour of the 11th day of the 11th month of 1918 after the signing of the Armistace. This day became known as Armistace Day and was eventually renamed Veterans Day.
Q: How is Veterans Day commemorated?
A: In parts of the world, people observe two moments of silence at 11:00 am (local time). The first moment is a sign of respect for people who have died in wars. The second moment is dedicated to the loved ones who remain.
Q: Who was the last soldier to die on November 11, 1918?
A: The last day of World War I is one of the most stunning and tragic aspects of this war. Thousands of soldiers died that day because they hadn't received the news or wanted to be in the most favorable position if the news was false or the fighting should resume.
According to the History Learning Site:
The last soldier to die was Private Henry Gunter from the US, who was killed at 10:59. His unit had been ordered to advance and take a German machine gun post. It is said that even the Germans – who knew that they were literally minutes away from a ceasefire – tried to stop the Americans attacking. But when it became obvious that this had failed, they fired on their attackers and Gunter was killed. His divisional record stated:
"Almost as he fell, the gunfire died away and an appalling silence prevailed."
If you have a loved one who has served, take a moment to find a Veterans Day e-card among our Veterans Day e-card collection that shows your deep appreciation for his or her service.
"When our perils are past, shall our gratitude sleep?" ~George Canning
Here isthe URL to the History Learning Site: http://www.historylearningsite.co.uk/november_11_1918.htm
If you want to know more about the tragic final day of World War I, go here: http://news.bbc.co.uk/2/hi/uk_news/magazine/7696021.stm